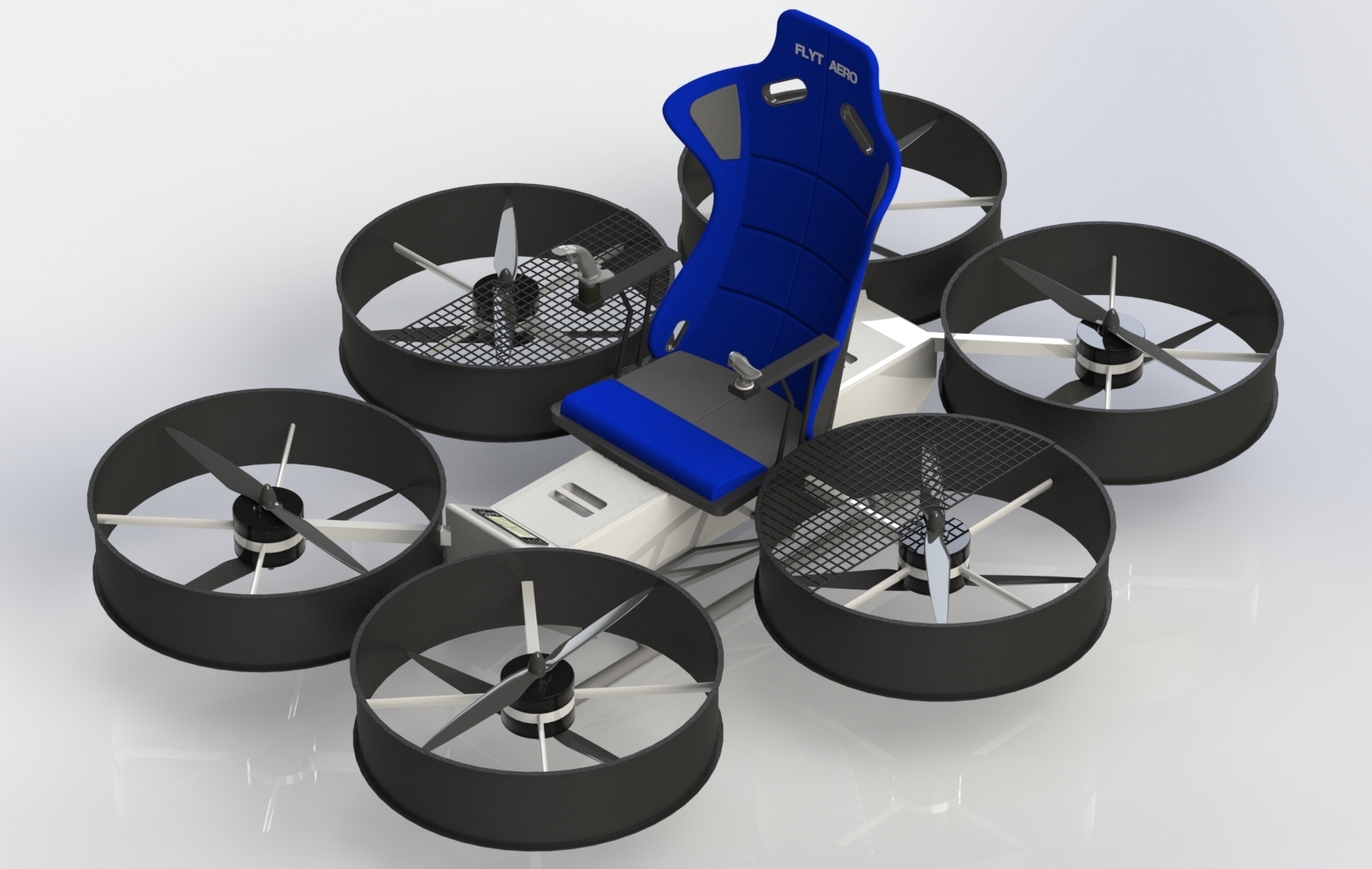 An experience like no other
We're currently hard at work building the next generation FlytCycle (shown above). See what makes the FlytCycle so incredible below.
01 - Tough
The FlytCycle is built tough. With 12 rotors it's designed to keep flying even with severe damage because safety is our #1 priority.
02 - Powerful
A carrying capacity of up to 300lbs means the FlytCycle has plenty of power.
03 - Safe
Safety is always our top priority. See below for all the safety features we've included on the FlytCycle.
04 - Portable
With a footprint of just 7.25x8.75 feet it's small, nimble, highly maneuverable, and easy to transport.
05 - Unique
Our unique 12 rotor design is unlike any other, keeping the Flytcycle both safe and small.
06 - Efficient
Flight time of ~20 minutes on batteries alone, or >1hr flying time with a hybrid power system for longer flights.
Safety
Safety is always our top priority. Let's see what makes the FlytCycle so safe.
12 rotors means it can fly normally even with at least 2 rotors damaged
Chair + safety harness keeps you secure
Shrouds around the rotors mean it's safer to operate near obstacles while keeping you safe at the same time
Safety grates near where you sit, just to make sure you can't accidentally put your hand into a spinning rotor
Intuitive controls mean it's easy to learn to fly
Settings to limit altitude and speed allow you to feel comfortable with how you fly the FlytCycle
And many more hidden safety systems you won't even notice! We're constantly thinking about new ways to improve your safety while flying.
Current prototype
The current FlytCycle prototype works great. We've flown it hundreds of times and it's performed better than our wildest dreams. This is the same one you've seen flying around in videos and serves as our technology demonstrator. It was built by hand in just three weeks to prove the technology and test the core design. It might not win any style awards but it gets the job done.
Since then Flyt Aerospace has grown and is hard at work building the future of transportation through multi-rotor vehicles.
What's it like to fly?
The moment you lift off it feels like you're floating on a magic carpet - it's an experience unlike any other. Imagine you're floating above the ground and with a simple movement of a joystick you can fly in any direction.
Every person who has flown says it's an incredible experience unlike any other they've felt, which is why we're hard at work so you can experience it for yourself.
Specs
Purpose: Technology demonstrator
Weight: 254lbs with batteries
Carrying capacity: Up to 250lbs
Size: 7x8.5 feet
Number of rotors: 12
Flight time: 10-15 minutes
Frame: 4130 Chromoly steel
Power source: Lithium Polymer batteries